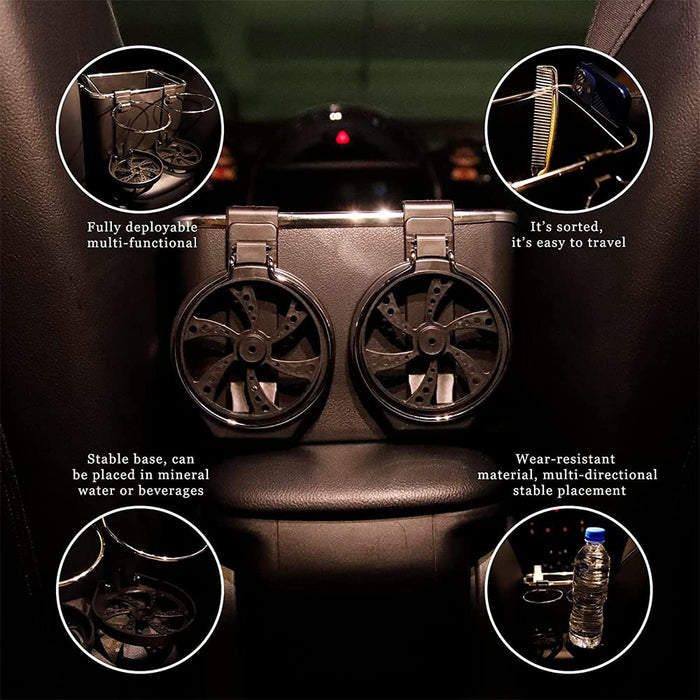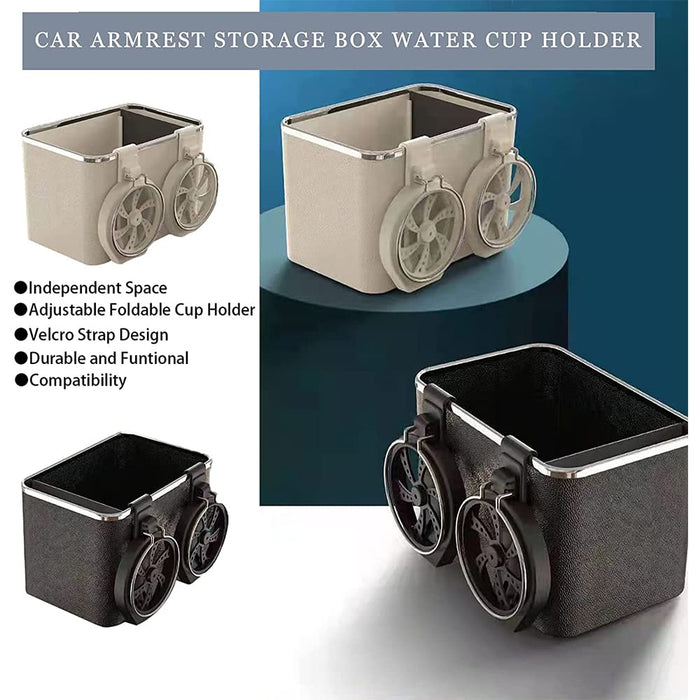 Car Armrest Storage Box
Item sold In last day.
 This car armrest storage box is designed with 2 independent spaces. Large space can store large items, such as paper tissues and snacks.The small space can store your glasses, phones, wallets and other small items. Foldable Cup Holder: The multifunctional car storage box is equipped with 2 foldable cup holders, You can use the cup holder to place your cups and stack the cup holder up when not in use to save space. Durable and Funtional: The car armrest storage box is made of high-quality plastic to ensure its durability. Besides, it is a special barrier that prevents naughty kids or pets in the back seat disturbing your daily drives.
About this item
New Upgrade The car tissue storage box, with a metal frame, has a high quality texture. It will be more suitable for your beloved car because of its material.
Various Applications You will enjoy the safe driving comfort with our car armrest water cup holder, because it is beautiful and high quality, it starts a new storage height in the vehicle to help you store and organize at the same time.
KEEP YOUR ITEMS TIDY You will not store the car armrest cup holder as it is convenient to store and keep items tidy and feel clean at home at all times

Healthy Material We make water cup holders with environmentally friendly and healthy materials. In addition, they are durable and have no peculiar smell.
Detachable & Foldable Our car armrest cup holder can be used in different situations easily and safely, with removable and foldable design.
FAQs -
Question: Could you tell me the size of this car armrest storage box? Can you take this beige video?
Answer: Play Video 17.5×11.5×11.5cm(6.9×4.5×4.5inch) compatible with SUV, RVs, jeeps, golf carts, car, etc. Not suitable for armless box car consoles.
 Question: How many cup holders are the car storage organizer?
Answer: Play Video Hello, the car storage organizer have 3 cup holders.
Question: Is the car tissue holder made of leather?
Answer: Play Video Yes, the car tissue holder made of premium PU Leather, 2 pack with tissue refill.
Question: How about the beige car tissue holder? Is it including tissue?
Answer: Play Video Our Car Tissue Holder Made of Premium PU Leather. The Car Sun Visor Tissue Box with Tissue Refill.
Question: It is leather
Answer: Play Video Yes, it is leather.
Question: How about the leather?
Answer: Play Video Made of Premium PU leather, Embossing Dot Surface, 3 color black/pink/beige. 
Question: What material is it?
Answer:The Car Armrest Storage Box made of environmentally friendly material ABS plastic, no irritating odor under high temperature, ABS plastic and durable material, no scratches, easy to clean