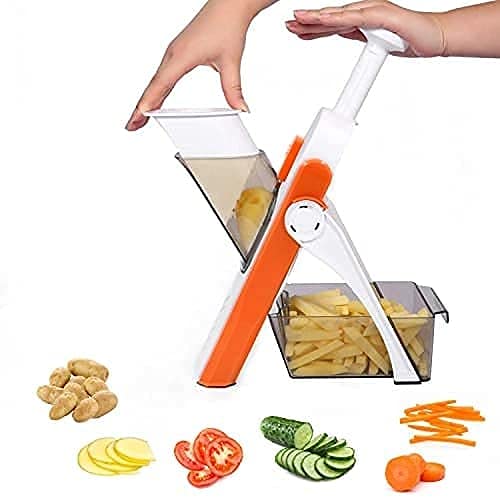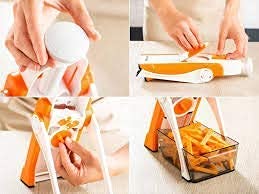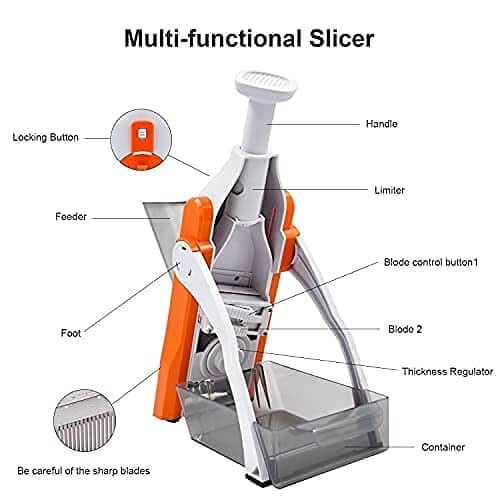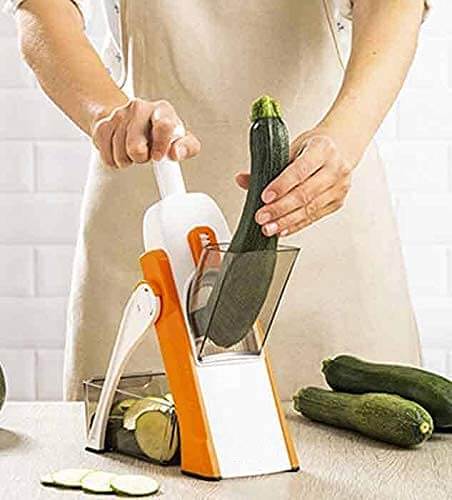 Multifunctional Mandoline Slicer
Item sold In last day.
Specification:

 Imagine how much time and energy you could save if preparing meals was as simple as pressing a button on your new multifunction mandoline slicer! With just one appliance, all of your slicing needs are taken care of – no need to buy multiple tools for different tasks when they can all be done by this single device! Plus it comes with an extra-large capacity bowl so there's less mess involved too! This is truly the best investment anyone could make in their kitchen today. There simply isn't another product like it on the market today - we guarantee that once you try it out for yourself, you won't want anything else ever again! 
EASY TO SLICE
It makes it easy for anyone to slice, julienne, grate, and more! This is a must-have kitchen tool that will make your life easier. You can even use it as a food holder while slicing or grating vegetables on top of plates or bowls. The possibilities are endless with this amazing product!
NO MORE HURTING YOURSELF
Plus, it has an ergonomic design so there's no need to worry about hurting yourself when using this device. It also comes with three different blades so you can choose which one works best for whatever dish you're making at home tonight!
 PERFECT FOR SALAD AND STIR FRY DISHES
 It's a kitchen tool that will help you prepare food in less time than ever before. You can slice vegetables and fruits with ease, making it perfect for salads or stir-fry dishes. 
Special features:-
This vegetable cutter helps you to cut the vegetables in shape you feel to cut it down.
The mandoliner cutter is the easiest way to deal your daily chores.
All In One Mandoline Slicer Features:
30 different cuts
Safe and easy to use

40 levels of thickness to choose from, ranging from 0.5mm to 8mm easily adjustable via control knobs.

Portable and save space

BPA free
Specifications:
Brand Name: 

ONCE FOR ALL

Fruit & Vegetable Tools Type: 

Shredders & Slicers

Model Number: 

JS01

Feature: 

Eco-Friendly

Material: 

Plastic

Type: 

Fruit & Vegetable Tools

Safe

ONCE FOR ALL's mandoline slicer is also safer than traditional mandolins and knives. This is because its blades are not exposed. Simply use the included food pusher to push products into the food chute. That way, you won't have to worry about accidentally cutting yourself

versatile

The ONCE FOR ALL mandolin slicer helps reduce preparation time by allowing you to quickly cut different types of fruit and vegetables. You can cut food into different shapes and thicknesses without changing the blade , by simply pressing the handle and turning the knob on the back of production

easy to store

The ONCE FOR ALL mandolin slicer has a foldable design. You can fold it and store it in the cabinet or drawer after use. This also makes it easier to take anywhere
FAQs -

Q:

Onion cutting , tomato cutting and all vegetables cutting
Q:

This is used for making french fries also ?
Q:

Can I cut potato as French fries?
Q:

Is it tough and standard?
A:
Yea very much tough and durable.
Q:

Can I cut onions in the machine